History and Current Bathroom Trends
Over the past couple of decades' bathrooms have developed into one of the most important rooms of a home. They were first intended for hygiene, and only necessary utilities room. Utilities such as showers, bathtubs and wash basins, were proposed for hygiene only. But a new trend started in the early 90s, where the room was turned into a room for relaxation similar to the living room. If we look at present day, the bathroom is a room where it is quite normal to spend money on renovations. People are looking to significantly improve the function of their bathrooms. There is equal focus on the aesthetic of the bathroom as in compared to other rooms, space, lighting, textures, colour and finishes. Due to all these trends, bathrooms have become bigger and more luxurious in order to suit people's lifestyle.
Why are small bathrooms poorly designed?
Small bathrooms are locked in the ideology of the 1960s. Very simple and purely practical rooms. But why? Trends are a fundamental part of our emotional, physical and psychological landscape. They arise quickly and often take little account of what exists. In this case, design has forgotten about small bathrooms, most likely because it is easier to design for larger bathrooms. However, designers often associate luxury and wellness with bigger rooms. It is important to consider that we have more factors at play in small rooms then in big rooms. For example, large bathroom furniture does not have a problem with splashing over the edge because it is large. However, if the user wants to have a piece of furniture that takes up little space in a small bathroom, some problems in this environment need to be solved. Designing the product to the environment in which it is going to be used will help a lot.
Design ideas to maximize your small bathroom
Replace Swinging Doors & Make Cabinets Flush with the Wall
Replacing hinges and installing pocket doors—whether at the entrance or on a closet enclosure—saves a lot of usable space in a small bathroom. Customizing built-in storage with a solid enclosure that's hidden in the wall to take up less space.
Bathroom lighting
Natural light is the key to making a small space feel bigger. Skylights are a great option if possible when windows aren't enough. Lighting can be the easiest ways to add some visual interest without taking up any space at all which is important as we only have limited space.
Proper Accessories
If you have a small bathroom, everything inside the bathroom should serve a purpose while adding some decorative style. Even if you need to declutter the space, you don't want your bathroom to look too bare. Use essential elements you would have to use in a bathroom, for example: Use of mirrors for lighting, light rattan baskets for storage, a beautiful shower curtain hanged strategically instead of average plastic curtain or even aesthetically pleasing bath mat.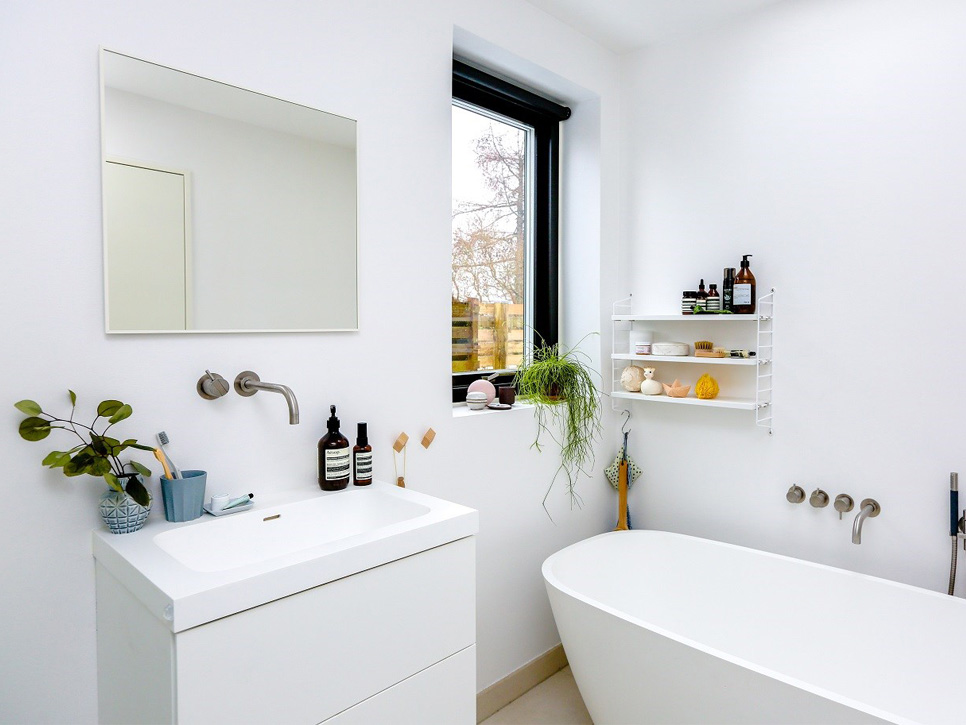 Small Poorly designed bathrooms can be hard to access and are uncomfortable to use, especailly if you have someone in your family with special care requriements. That's why design matters, especailly when you have a small space to work with. If  designed correctly with the perfect combination of accessibility, comfort and style you can turn any small bathroom into a luxurious bathroom for your loved ones. Tiny bathrooms can be turned into Accessible bathroom  or special care bathroom. Our accessible bathroom designs include careful planning of the floor plan and layout, taking special note of the placement of specialised fixtures and fittings.This includes space for manoeuvring mobility aids where required and careful positioning of grab bars and any other special requirements. We take pride in combining your special care requirements with our stylish designs to provide you with a truly luxurious bathroom.