From concept to completion, we're with you every step of the renovation process.
Our full service approach includes
By working with us, you won't have to hire a designer, engage a builder or manage multiple tradespeople.
Step 1
Concept design & quote
The first step is to get in touch with one of our friendly designers for an obligation free quote. Our service starts with a consultation in our showroom or at your home or office. Our expert bathroom designers take the time to understand your objectives and ideas, offering potential options and suggestions along the way as we discuss your new design.
We'll have a thorough conversation with you about scope of works, budget and timelines before we provide a detailed quote.
Step 2
Interior architecture & design
Once you're ready to proceed, we'll work with you to bring your vision to life. Our qualified interior architects and designers meticulously plan your new or existing space and clearly communicate a step by step guide for each phase of your project.
Our team of experts can help with product selection for all fixtures and finishes including tiling, lighting, cabinetry, bath tubs, tap ware, special care products and more. If you choose, we can assist with bathroom styling and color selection, providing mood boards so you can visualize your finished bathroom.
We will also come to your home to gather measurements before providing detailed design drawings and specifications for your approval.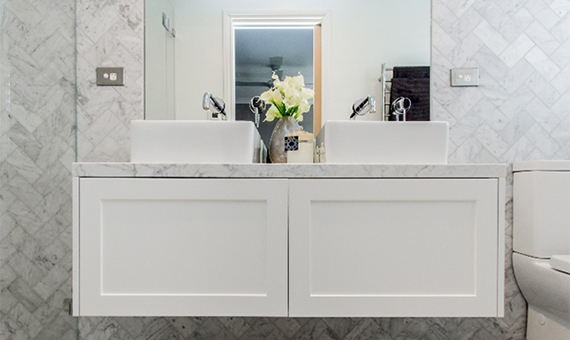 Step 3
Custom cabinetry
We custom make your bathroom vanity and cabinets to suit your space and needs. Whether you're after a wall-hung vanity to give the perception of extra room, or full-height bathroom cabinets for that extra storage space, our custom-made solutions are manufactured right here, in Sydney.
We also offer a range of pre-designed cabinets from a range of quality suppliers.
Step 4
Project management
We understand a bathroom renovation can bea stressful exercise, so our bathroom project management expertise gives you total peace of mind. We provide a complete schedule showing a step by step timeline of how your new bathroom will be delivered.
Our bathroom installation services only engage professional bathroom fitting experts who meet our highest standards. Our panel includes qualified and licensed builders, waterproofers, plumbers, tilers, electricians, stonemasons, glaziers and cabinet makers.
We manage all tradespeople, saving you time, headache and money, as well as ensuring the least amount of interruption to you and your family.
Step 5
Strip out & installation
Stand back as the construction work starts!
Our team will remove your old bathroom and dispose of it in an environmentally friendly manner. Our licensed builder then completes any construction work required, such as moving or adjusting walls and doors.
We then continue to manage all other specialist trades from beginning to end.
Step 6
Clean & completion
Once all trades are completed, we arrange a thorough clean and run through the completed project to ensure you are happy with the end result.
You are now ready to start enjoying your new bathroom!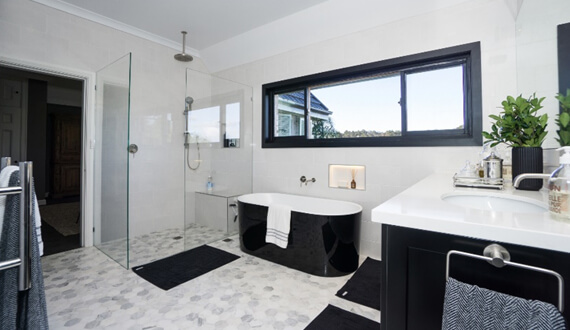 Step 7
Certifications
We provide a waterproofing certificate warranty covering our waterproofing work.
We also provide your home with cover under a comprehensive Home Building Compensation Fund insurance for all bathroom renovation projects over $20,000, as required by law.
Our high-quality workmanship ensures you will be happy with your bathroom renovation for years to come.