Accessible & special care bathrooms
The perfect combination of accessibility, comfort and style
Well-done accessible bathroom designs will provide you with all the functional requirements of a disabled bathroom while also preserving a luxurious and refined feel. Designed properly, your disabled bathroom's aesthetics and practical requirements merge into a smart and interlinked result that ticks all the right boxes. A disabled bathroom layout differs from standard bathrooms in the sense that additional railings and space or step height considerations will need to be adapted to suit the specific needs you or a family member may have.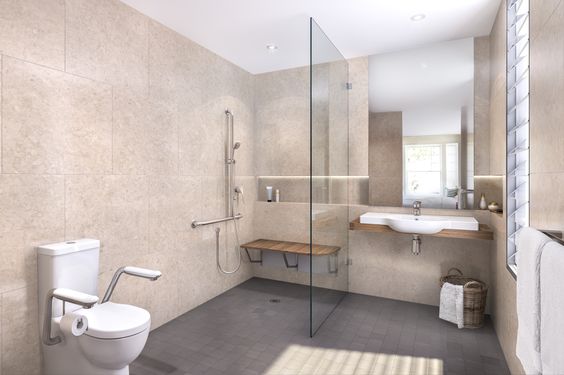 Convert a standard bathroom to a disabled one
Converting your bathroom to a handicap accessible one does not necessarily require a full bathroom renovation. In many cases, accessible bathrooms can be achieved through simple modifications. Our design team and architects will create a disabled bathroom plan based on the same principles and processes to design our luxurious bathrooms. Your current bathroom style will be assessed and redesigned to create an appropriately functional yet beautiful setting. Whether your existing bathroom is small, a generously spacious master bathroom or anything in between, we can provide options that suit your space perfectly.
Design considerations for accessible bathrooms
Disabled bathroom design in Australia has evolved to provide homeowners with practical yet beautiful bathrooms. You may require a wall-mounted toilet to enable convenient wheelchair access in your three-quarter bathroom, a full bathroom makeover for your ensuite so it can include an accessible walk-in shower simply fitting handrails fitted or a lowered sink to your guest bathroom. Whatever space you want to remodel to make accessible to people with a disability, discuss your particular needs with our design team. They are a skilled team of seasoned professionals that can ensure you receive the accessible designer bathroom of your dreams.
The next steps in your disabled bathroom planning
Your inspiration may come from disabled bathroom layouts you have seen elsewhere or from concepts taken from our completed bathroom projects that you can explore in our gallery; either way, it is our job to create the bathroom of your dreams. After an open and clear discussion, we will agree with you on a disabled bathroom design that you like and that is both aesthetically pleasing and functional. Once you have okay the design plan, your project management team will ensure that your disabled bathroom plan is brought to fruition utilising highly skilled tradespeople, fixtures and fittings. 
Let us help you get the disabled bathroom you need
While an accessible bathroom is an essential feature in a home where someone has mobility issues due to an injury, age or permanent disability, it can also be an extra expense that you may not have factored into your yearly budget. We offer attractive financial packages to ensure that you can achieve the bathroom you require without any delays.
To discuss any project or ask us any questions, please don't hesitate to contact us today. We are always happy to discuss how Luxurious Bathrooms can assist you with your standard or accessible bathroom renovation, fit-out or upgrade. Quality, luxury, and personalised service are guaranteed.
Frequently Asked Questions
Our designers are well versed in the required space for an accessible bathroom to be functional. Get in touch with us to advise if your existing bathroom size is appropriate for a disabled bathroom.
Disabled showers inside accessible bathrooms should be large enough to place a shower chair while providing enough room to freely enter and exit the shower.
We are a proven, long-standing company that understands your needs and delivers the most practical accessible bathroom design while maintaining our high standards of quality and design.
Our Contact
Location
40 Windsor Road, Kellyville NSW 2155
Harvey Norman Flagship Store
250 Parramatta Rd, Auburn, 2144
Opening Hours
Monday to Friday: 9 AM – 5 PM,
Saturday & Sunday: 10 AM – 4 PM.
Industry experience
We've been operating in the industry for 20 years, delivering successful projects to thousands of happy customers all over Sydney. Our interior architects and professional designers have well over 100 years' collective experience in design and project management. Our expertise enables us to consistently exceed expectations.
Service excellence
We have a passion for providing great service, every time. Right from the first consultation, where we take the time to understand your needs and goals to our detailed quote and project plan, where we communicate a step by step timeline. Once work starts, we keep you informed every step of the way.
Our warranty
We believe in the quality of our workmanship, backed by a7-year warranty for labour and waterproofing. We also provide your home with cover under a comprehensive Home Building Compensation Fund insurance for all bathroom renovation projects over $20,000, as required by law.
Stress free projects
A bathroom renovation can be a stressful exercise and many of our clients don't have the time or expertise to manage all of the different aspects of the project. We take care of all the details so you don't have to. Our bathroom project management expertise gives you total peace of mind.
Full service approach
We take care of everything. We're experts in managing your bathroom project from start to finish, saving time, money and giving you total peace of mind. We coordinate all trades, so you don't have to search around Sydney for reliable tradespeople, work within their schedule and negotiate on price.
One team of professionals
Our team of interior architects, designers, project managers and qualified tradespeople work together as one team to seamlessly manage your project from concept design to installation. We communicate and coordinate the project together, saving you time, headache and money.
Reliable people
We only engage professional bathroom experts who meet our highest standards and specialise in their field. All of our tradespeople are appropriately licensed and insured. Having built our solid industry reputation over many years, we are here to stay and deliver on our promise to you.
Finest quality
Quality is our passion. We recognise that our reputation is built on the quality of our workmanship. Our custom-made cabinetry solutions aren't cheap imports – they are manufactured right here, in Sydney. Thousands of happy customers would agree!
Customer Satisfaction
With the majority of our business being repeat customers and word of mouth referrals, we know that happy clients are essential to our longevity. We continuously strive to enhance our highest reputation through every project, striving for excellence and consistently exceeding expectations.
Disabled Bathroom Designs