Have you recently bought a home that desperately needs an upgrade? Or perhaps your once-modern bathroom is looking a bit dated and worn? Whether you prefer traditional decor or have a more contemporary style, we are here to help you create the bathroom of your dreams. With over 20 years of experience in the industry and hundreds of outstanding bathroom renovations in Glenhaven completed, there is no better choice for the job than Luxurious Bathrooms. Breathe fresh life into your bathroom and create a space that enhances your home when you choose our team to complete your bathroom renovation in Glenhaven.
The Glenhaven bathroom renovation dream team
Along with our sister company, Kellyville Kitchens, which was founded in 1996, our team has designed, managed and brought many unique Glenhaven bathroom designs and new kitchens to life. And after so many years in the industry, we have truly perfected our offering to provide our customers with a seamless and highly efficient renovation process. With designers, interior architects, relevant tradespeople and a dedicated project manager on each Glenhaven bathroom renovation, we are not only able to complete the entire project from start to finish but are also able to take it off your hands. You can count on our talented multidisciplinary team to manage your complete bathroom renovation for you and update you regularly on the progress and important decisions along the way.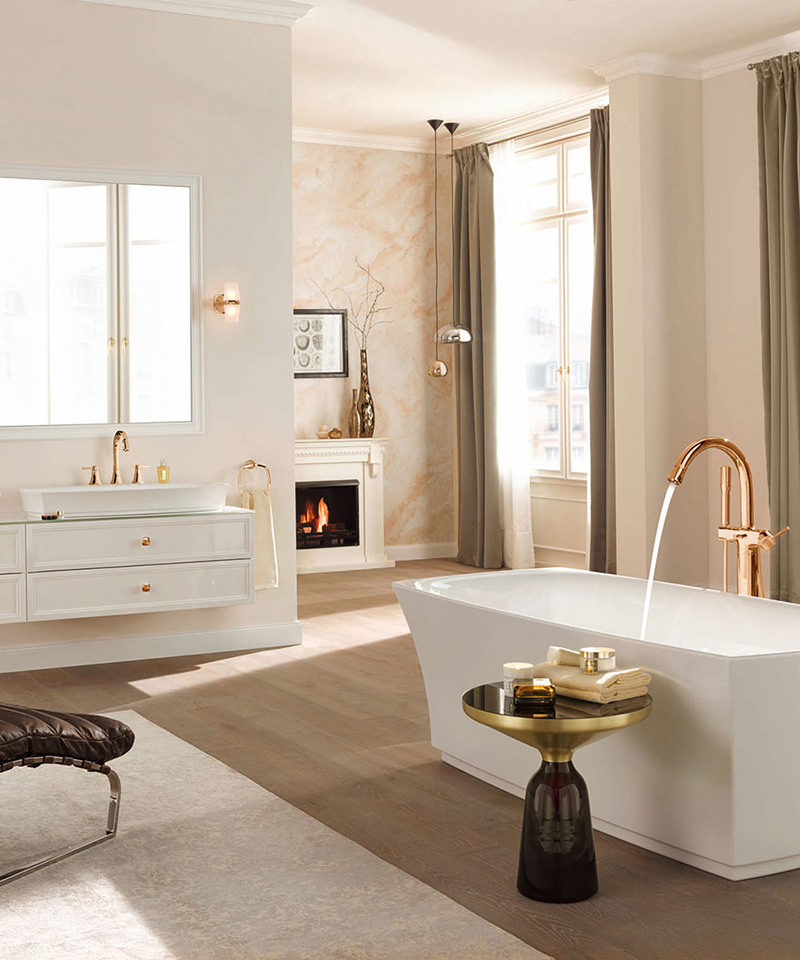 Glenhaven bathroom designs that reflect your unique taste
While bathrooms are often overlooked during full home renovations and general upgrades, a considered bathroom design can go a long way to adding value to your home and bringing together your home's overall look and feel. From installing new traditional finishes to creating an entire luxury modern bathroom design in Glenhaven, our team will work closely with you to design a bathroom that is both functional and in line with the rest of your home's aesthetic. Drawing on inspiration from your favourite existing designs and taking into account the size and shape of your room, you can be sure that you'll love the bespoke design that the Luxurious Bathrooms team will create in your home.
Give your bathroom in Glenhaven a thoughtful makeover or complete renovation
If the layout and functionality of your bathroom work for you but the final touches aren't really your style, a bathroom makeover may be a more suitable option than a complete renovation. Using your existing bathroom as a canvas, our bathroom makeovers involve refreshing your finishes and fixtures to turn your outdated space into a designer bathroom in Glenhaven. In cases where a full upgrade is desired or because your space is too outdated or you'd like to create an accessible bathroom in Glenhaven, a Luxurious Bathrooms renovation is the perfect choice for you.
Refresh your bathrooms in Glenhaven today
From en-suites to guest bathrooms, master bathrooms and more, there is no project too big or too small for our team. Get in touch with our team online or call us on 1300 029 140 today to learn more about our Glenhaven bathroom renovations process and how we can make your dream bathroom a reality.
Frequently Asked Questions
Simple, clean lines incorporating design elements such as neutral colours with highlights of an accent colour will bring your bathroom into the modern age. Luxury modern bathrooms include state of the art functionality that achieves the most practical results needed of a home bathroom while being discrete and elegant.
Lighting and fixtures play a large part in creating a luxurious atmosphere. There are many ways to make your bathroom look sumptuous beyond its actual design and décor. Our designers can help you with a range of luxury bathroom ideas to enhance your renovations.
Generally, there are three main bases to bathroom style — a full bathroom that includes a toilet, shower and bath, a three-quarter bathroom that does not have a bathtub and a half bathroom with a toilet with a hand basin only.
Our Contact
Location
40 Windsor Road, Kellyville NSW 2155
Harvey Norman Flagship Store
250 Parramatta Rd, Auburn, 2144
Opening Hours
Monday to Friday: 9 AM – 5 PM,
Saturday & Sunday: 10 AM – 4 PM.
Industry experience
We've been operating in the industry for 20 years, delivering successful projects to thousands of happy customers all over Sydney. Our interior architects and professional designers have well over 100 years' collective experience in design and project management. Our expertise enables us to consistently exceed expectations.
Service excellence
We have a passion for providing great service, every time. Right from the first consultation, where we take the time to understand your needs and goals to our detailed quote and project plan, where we communicate a step by step timeline. Once work starts, we keep you informed every step of the way.
Our warranty
We believe in the quality of our workmanship, backed by a7-year warranty for labour and waterproofing. We also provide your home with cover under a comprehensive Home Building Compensation Fund insurance for all bathroom renovation projects over $20,000, as required by law.
Stress free projects
A bathroom renovation can be a stressful exercise and many of our clients don't have the time or expertise to manage all of the different aspects of the project. We take care of all the details so you don't have to. Our bathroom project management expertise gives you total peace of mind.
Full service approach
We take care of everything. We're experts in managing your bathroom project from start to finish, saving time, money and giving you total peace of mind. We coordinate all trades, so you don't have to search around Sydney for reliable tradespeople, work within their schedule and negotiate on price.
One team of professionals
Our team of interior architects, designers, project managers and qualified tradespeople work together as one team to seamlessly manage your project from concept design to installation. We communicate and coordinate the project together, saving you time, headache and money.
Reliable people
We only engage professional bathroom experts who meet our highest standards and specialise in their field. All of our tradespeople are appropriately licensed and insured. Having built our solid industry reputation over many years, we are here to stay and deliver on our promise to you.
Finest quality
Quality is our passion. We recognise that our reputation is built on the quality of our workmanship. Our custom-made cabinetry solutions aren't cheap imports – they are manufactured right here, in Sydney. Thousands of happy customers would agree!
Customer Satisfaction
With the majority of our business being repeat customers and word of mouth referrals, we know that happy clients are essential to our longevity. We continuously strive to enhance our highest reputation through every project, striving for excellence and consistently exceeding expectations.